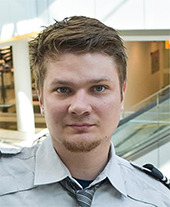 Location: Helsinki, Finland

Years with Securitas:
- Security Officer 2017 – 2019
- Lead Security Officer 2019 - present

My current role: I work as a lead security officer ensuring the security of a mall in Helsinki. My day-to-day duties entail leading and instructing our team.

Topic studied and where: Crisis control and preventative measures in a mall environment in Los Angeles, USA.
Why did you apply for the Scholarship?
This was a chance to deepen my knowledge of mall security and find ways of improving our service and adding value to the customer. The best outcome was to find tips that could be implemented in Finland.
What did you learn/gain from the study visit?
We visited many sites in Los Angeles, and I learned about the different levels of security at their operations. I also learned how they cooperated with law enforcement and how they took preventative measures to increase security. These included the use of metal detectors, robots, and security officers working in their assigned communities. I also picked up interesting insights on their ways of motivating their workforce.
How will you share this knowledge/experience within your organization?
I have written a blog post that was published on our intranet, website, and client communications. Pictures of the trip have also been shared on our company's social media channels. I have had discussions with the supervisory teams of our organization.